UKCP & AFT reg. Systemic Psychotherapist, AFT reg. Supervisor, Prof.Doc Systemic Practice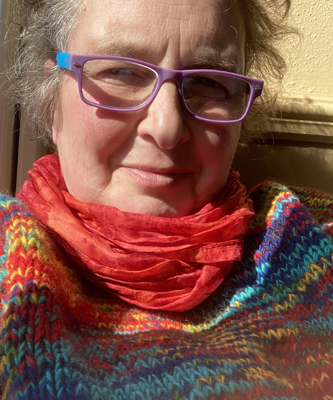 Working for The Pink Practice
I'm a founding member of The Pink Practice. Gwyn Whitfield and I set it up 30 years ago when there was nothing of its kind in the UK. In many important ways, the systemic narrative approach is still very useful.
Work I do at The Pink Practice
Therapy with individual adults and couples (online only).
Consultations with parents of young people who are lesbian, gay, transgender, gender queer, gender or sexuality questioning (online only).
Supervision for relational or systemic therapists (online only).
It's interesting how easy it is to conenct with people online and establish good connections. I love seeing people in their own spaces. I have found that working online often makes for a more relaxed conversation and connection.
Some core values and beliefs
I believe different people and different problems require fluidity in approaches to both therapy and supervision. When I first meet with people, I try to gauge whether they are wanting more of a reflective conversation or suggestions of alternative things to try. Either way, the work has a collaborative feel to it so supervisees or people coming to therapy feel they are influencing the way we are working together.
Therapeutic ways of working need constantly re-inventing to depathologise and decolonise our ways of communicating, our received values and our relationship with theory. I have a particular interest in autism and non-binary genders. The Pink Practice for me has always been a platform from which we can centre the importance of intersectionality, diverse and complex identities and challenge dominant theories and cultures.
Study and Qualifications
Professional Doctorate in Systemic Practice. University of Bedfordshire, 2011.
MA Systemic Practice. University of Northumbria, 2000.
Post-Graduate Diploma in Systemic Therapy with Individuals, Couples and Families. Kensington Consultation Centre, London, 1993.
Diploma Art & Design. Guildhall University School of Art, London. 1993.
Professional Membership
I am a registered Systemic Psychotherapist with
Email The Pink Practice

020 7060 4000